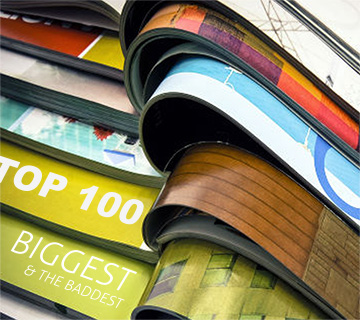 Finding the best PR firm for your organization might not be as easy as we all want it to be. At the end of the day, these folks are going to be the people who will be connecting your brand with the industry influencers who make a difference in your industry. They need to be sharp, and you need to make sure they are the right ones. The PR consultancy you are about to hire will be telling the story of your company to the world. Here at Bacheff Communications, we understand that finding the right PR firm is not an easy task so we've compiled a list of top 10 things you should consider before you make a final decision.
Choose the right type of agency
One of the biggest mistakes companies make when looking for outside PR counsel is approaching PR firms that are not focusing on a particular area. A PR agency that works with everything that moves would not be able to deliver the results of a consultancy solely focused on one area alone. If you are a high-tech company, hiring Toyota's PR firm won't do you any good. They may sound impressive and look flashy, but you won't get far. Do not even consider them. High-tech companies should be represented by technology oriented PR agencies. Don't waste your time and money on firms that are not part of your industry.
Know your goals and needs
Do you want an agency for a single campaign or you are after permanent media exposure? Knowing what you want is crucial when choosing the right PR partner. You don't have to have a full roadmap created in your mind, but you need to know what success means to you and what is your end goal. Agencies can help you craft your company story and map a successful path for your business. You need to know the destination you want to go so that they can take you there.
Decide on a budget
Knowing your budget will help you choose the best PR firm for your needs. If your budget is limited, you may be able to get a bigger bang for your buck should you decide to work with a smaller agency. Having a larger budget does not necessarily mean you have to move to a bigger PR agency either, most of the times you can get more for less when you partner up with a small or medium size PR consultancy. Knowing your budget saves you time during the negotiation and helps your potential partners tailor a proposal that works best for your organization.
Avoid agencies that overpromise or want to bind you to a lengthy contract
If they guarantee you results, feel free to hang up right away. They are not worth your time! PR professionals can surely promise you results, but do not fall into the trap of 'guaranteed' results. Guaranteed results do not exist in PR. This is how you can recognize good quality PR counsel from a sales person who is solely after your marketing budget. Instead, set up clear goals and offer them half the price of the retainer if they don't meet your expectations. This is a good way to make sure everyone assigned to your account will hit the ground running.
Verify their story
Learn more about the team and ask for case studies and recommendations. They will surely overwhelm you with success stories! However, be selective and ask if such success could be achieved for you too. Get them to be confident in the fact they will be able to deliver or get them tell you why they won't be able to exceed or at least replicate the same results. If an agency claims they are global, ask for proof. The level of PR organizations claiming they deliver results outside the US is enormous, but few of them can prove it. Do not fall for the 'part of a global network' story either. Those networks are in place for their mutual benefit only, not yours. We've come across agencies that have the word 'global' in their name, but they get shy when asked about their international experience and capabilities. Get them to elaborate on those statements before you make a decision.
Be realistic
We've had clients being featured in tier one technology publications such as Mashable, Digital Trends, Bloomberg, and CNET in the first two weeks with the agency. Others sometimes take years to get in the mainstream tech media. Be realistic about your goals, and you will not be disappointed by the results. We've seen tens of accounts grow big over the years. None of them made it to national news in year one, but after few years of hard work, they started regularly being in some of the most influential media outlets in the world. Getting the media to know about you sometimes take time but remember that hard work always pays off!
Learn how PR works
Ask questions about how the results are achieved. You don't have to be a PR pro and understand everything but be open to asking a lot of questions about the methods used by the agency. Some of the techniques they use may not be in line with your organization policies. For example, if your PR agency has the practice of sponsoring journalists for content you have to stay away from them as this is wrong at all levels of journalism. If they promise you high social media presence, make sure they grow your audience organically but not through importing Facebook likes from Asia. Learn more about the methods they use to deliver you the results.
Listen to your intuition
Consider your options but don't waste time – listen to your intuition. This is not math; there is no right or wrong. Even though the process is similar to when getting a new hire, in this case, you are entering a relationship where you hold the full power; you can always terminate your work with them at any given time without any repercussions. Make sure you are happy with the contract and listen to what your gut tells you; you won't regret it.
Choose the right size
Smaller agencies have more flexibility on amending terms and goals according to your needs. It also is a common misconception larger PR organizations have more people involved in individual accounts. If the agency comes with 100 employees, it does not mean all these people will be involved in your account. No matter which way you go, big medium or small, there will be the same amount of individuals involved in your account. In most cases when you decide to go with a larger agency, you will end up dealing with more corporate bureaucracy and spending more time and money for the same work and results.
Be happy with the contract
Best case scenario, ditch the contract. Public Relations is an industry where relationships are built on trust. PR professionals build the bridge between you and your potential customers by connecting your brand with the media thanks to their unique relationship with journalists and influencers. There's no need for a lengthy contract between you and your PR firm the same way as PR firms do not have contracts with the journalists. The whole industry is built on trust. However, if there is a contract make sure you agree on everything including shipping fees, warehousing, and possible surcharges before you start working together.
Once you are signed up and dusted, I would strongly suggest not to hide company secrets from your PR partners. Get an NDA over to your top pick and tell your new PR friends about your plans. The more they know, the better. Getting them familiar with your weaknesses as well as your strengths allow PR agencies to recommend you the right path toward media success. Your new PR team may want to work on a crisis management solution if they identify a possible fault. Do not become a laughing stock – your CEO and your shareholders will thank you for this decision. Letting your PR team know about potential hiccups can get you prepared for the worse. And last but not least, once you hire the agency, make sure you take advantage of the results they deliver. Share those links on social media and be proud of the awards and positive coverage PR pros deliver for you. And remember, the more you engage with the press, the friendlier they get, at the end of the day, media outlets feature your products and services not to promote your brand but because the story speaks to their audience. Help them grow their audience, and they will do the same for you.